Maltaward are a well known supplier of a range of Kentledge blocks, hoarding blocks and anchor blocks.
Available as a 500 kg block and a 1000kg block, our Kentledge blocks are sturdy and capable of providing much needed stabilisation. The ballast blocks can be used on a standalone basis or can be mechanically integrated into construction to provide the right level of anchorage for any temporary structure.
Precast concrete Kentledge blocks are deployed to act as ballast weights or counterweights to provide stabilisation for a variety of temporary structures and works such as;
Site hoarding and fencing
Securing one side of the fence or hoarding with hoarding blocks provides immense stability and rigidity, even where structures face severe wind loads. The effectiveness of the blocks means support can be applied to one side only, leaving the face completely clear, unobstructed and visually pleasing.
Scaffolding
Kentledge blocks provide 100% secure anchorage for scaffolding, including sheeted structures. The blocks add mass to the structure as well as rigidity because the anchor blocks can be mechanically integrated into the framework.
Rigging and stagework
Kentledge blocks make ideal counterweights on cantilevered structures, the heavy weights providing robust support on minimal footprints. Useful for rigging staging, lighting gantries or other tubular structures, the blocks can be mechanically coupled to the structures for extra rigidity and safety. Where structures have sheet cladding, such as stage or start/finish gantries, the blocks can be integrated into the core structure without visually affecting the exterior.
Marquees and events
Providing anchorage for marquees, anchor blocks can be strapped to the main support guys, thus eliminating pegging, which may be particularly useful for hard surface marquee erections.
Cranes and towers
In addition to anchorage and stabilisation for temporary structures, our Kentledge weight blocks are often used to provide stabilisation for large cranes.
Maltaward's concrete Kentledge blocks also have a wide range of other uses such as concrete test weights and ballast weights.
Frequently Asked Questions
What can Kentledge Blocks be used for?
Kentledge blocks are any pre-cast concrete block that is designed to be used as ballast to secure temporary structures, such as stages and stage rigging, hoardings, marquees and fencing. They provide free-standing anchorage that is ideal for situations where it's impractical or impossible to dig foundations.
How secure are the blocks?
Kentledge blocks are used in a variety of demanding industries including civil engineering, large-scale construction and marine applications. Their versatility and durability make each block a reliable counterweight, and units can be combined to provide additional anchorage.
Is there a minimum or maximum size of order?
No, at Maltaward we work closely with our clients to supply the most effective barrier for their needs, whether that's a single unit or a complete system of various barrier types over multiple sites.
How are the blocks delivered?
All of our barriers are delivered by Maltaward staff, in our own specialist trucks, sometimes we may use an approved Haulier who is vetted by our Health and Safety Manager and our Insurers. Unlike many of our competitors, we don't rely on third-party couriers and we have found this makes the process much easier for our clients. Should you have any questions or require additional assistance, you can speak directly to our team.
If you would prefer to collect your own barriers, that's no problem – simply call us to arrange a time.
How are Kentledge blocks installed and positioned on-site?
Depending on the type of block you choose, specialist equipment will be required to safely lift and position each unit. Our Marquee Blocks, Security Barriers and Heavy Duty Road Barriers are manufactured with forklift slots for easy manoeuvring, while TVCBs and Malta XL Lego Blocks will require a HIAB crane fitted with a block grab.
Our team are more than happy to take care of your barrier installation. Alternatively, we offer HIAB hire and a variety of block grabs to help you complete the job yourself. Contact us for a free quote.
How quickly can you deliver?
We have a range of barrier solutions available for immediate use, so if you require urgent site security, please get in touch as soon as possible. At Maltaward, we pride ourselves on meeting the needs of our clients within the fastest possible turnaround times, so call us to discuss your site needs and we will start working on a solution straight away.
Are the blocks available to purchase or rent?
Our complete range of products is available for purchase or hire, depending on what fits your needs. If you are interested in temporary or permanent Kentledge blocks, call our team to discuss your requirements and we will help you make the best choice between rental, purchase and additional equipment.
Contact Us
Maltaward is a leading UK supplier of a wide range of concrete blocks and barriers for a multitude of civil engineering applications and security solutions. As a CHAS accredited contractor, we can offer expertise and security whether you require fork lift hire, security and fencing options, or concrete barriers for your commercial premises or building site.
For more information on Kentledge blocks, hoarding blocks and anchor blocks, or to find out Maltaward's other products and services, please get in touch today. Speak to one of our friendly team on 0800 043 2742, email your query to admin@maltaward.co.uk or contact us here.
Click on the image below to enlarge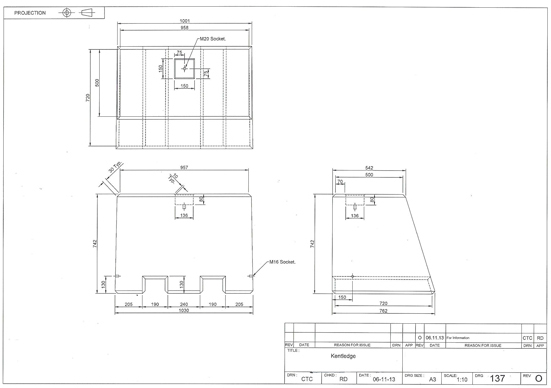 Use the form below to contact us for your query regarding Kentledge blocks, anchor blocks or hoarding blocks.