Do you need a fence on your concrete barrier, how can you do this? simple, TVCB Barrier attachments
Why not  take a look at our brand new web page https://www.maltaward.co.uk/barriers/barrier-attachments/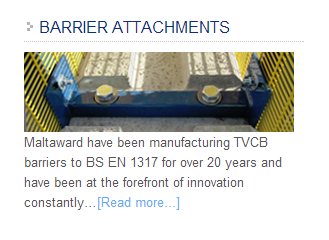 We have a range of attachments  that can be can hired and used with our TVCB concrete barriers.
Our new page on the website is designed to guide you through what we have to offer ranging from simple mesh fence panels & access gates  to unique specially designed security systems manufactured to your specifications.
With years of experience in hiring and supplying  barriers , we can ensure you get exactly what you need when you need it delivered by our own drivers on our own transport.
So when you need to secure your sites but also need to fence them off, we have the attachments you need to achieve this quickly efficiently and cost effectively, use in conjunction with our interlocking TVCB barriers, giving you peace of mind every time.
Contact us today;
Free on 0800 043 2742
email; mwilmot@maltaward.co.uk