We have developed a wealth of experience installing all aspects of foul and storm drainage from individual gullies to relieve surface water puddles to 1000m3 attenuation systems. We are drainage specialists carring out repairs to collapsed and damaged pipes and can install new connections on to the main drains. Our teams are NRSWA approved to work in the Highway and we can arrange all the permits and licences to carry out the work.
We have installed packaged pump systems, septic and separation tanks for private and public clients and can install complete systems for developments and new builds.
We undertake flood prevention measures and have experience in constructing spillways and outfalls together with bank stabilisation and gabion baskets.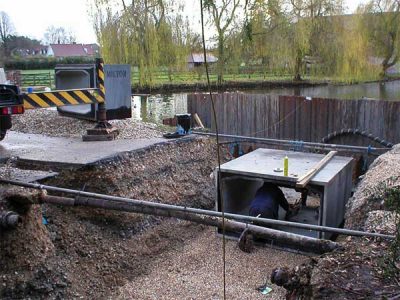 Culverts and Dams
Installing precast box culverts as part of a drainage improvement scheme in West Sussex, we used interlocking sheet piles to create a coffer dam and a 100mm pump to keep the trench excavations dry. Although not a deep excavation, the presence of services added to the care needed in order to carry out the work safely.
Storm and Foul Drains
Typical of many of our Highway drainage projects, new drains are laid amongst the existing service cable and pipe network. Our teams are trained in the use of CAT scanners to trace these obstructions, so that the new sewer trenches are excavated without causing any damage.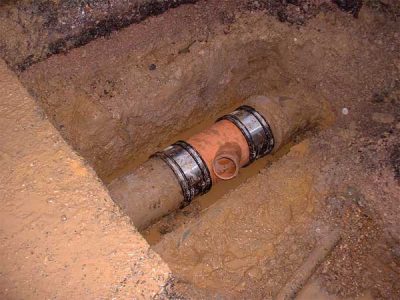 Sewer Connections
We make private sewer connections on the main drains in both Thames Water and Southern Water areas. We can also provide package pumps stations where properties cannot be connected to the main drains. Storm water attenuation systems and land drainage is another service provided to individuals and developers.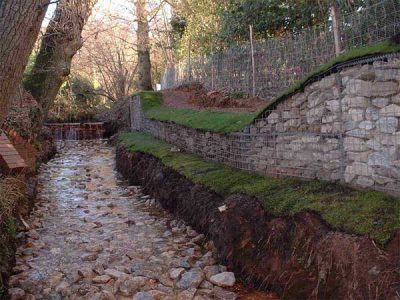 Drainage and Flood prevention, West Sussex County Council
As an approved County contractor Maltaward has carried out numerous drainage and flood prevention projects like this one near Storrington:
Gabion and mattress bank stabilisation works
Re-alignment of flows and clearance of water courses
Installation of attenuation systems
Use the form below to contact us for all your concrete barrier needs!