Maltaward has gained an outstanding reputation working with clients across Brighton and the Sussex area. We provide a wide range of quality concrete barriers that are perfect for all sorts of security and traffic management requirements, such as empty-property security, road works, land protection and safety purposes. If you are concerned about trespassers or fly tippers or need a way to efficiently manage traffic on a temporary basis for your site, we can work with you to meet all sorts of specific requirements and decide for you which barriers are best suited to your preferences.
We are a Civil Engineering Contractor who offers construction services to both the public and private sectors across the South East. Whether you require concrete barriers, drain repairs, security fencing, highway works or school playground maintenance, we have all the necessary skills and expertise to provide these services to a very high standard. We have assisted many clients in the past with a variety of projects and we are able to assist major airports, schools, colleges, pharmaceutical industries and more with their construction projects.
Flexible ordering to provide exactly what you need
 We are based in Crawley so we are local to any projects you may be planning, making us the ideal source of concrete barriers. We can provide you with as many of our Malta Blocks as you need, whether it be larger job or something a lot smaller. We never have a minimum order so if you need one barrier or one hundred, we are happy to work to your needs. We are capable of giving you the advice you need to choose the best blocks for your upcoming project, or if you prefer we can choose the blocks for you and relieve you of the decision making process. We offer our barriers at an extremely reasonable price and can even help to construct your unique barrier structure for you.
Highly Experienced
Maltaward have an excellent reputation in providing security and property protection barriers at the highest level of quality. Our former and current clients include several London Olympic venues and the City of London Police, so property owners and local businesses can certainly rely on our services. We are LANTRA-accredited thanks to our history as a supplier of a range of barriers, so we encourage you to give Maltaward a call today to find out which concrete barriers best suit the project you are planning.
We are experts when it comes to Civil Engineering and have developed our core business around this. The level of experience we have in this sector gives us the skills we need to work effectively in specialised environments such as airports, pharmaceutical facilities, hospitals, prisons and more. We are specialists when it comes to highway and infrastructure construction services for local authorities as well as installing drainage systems.
Security Fencing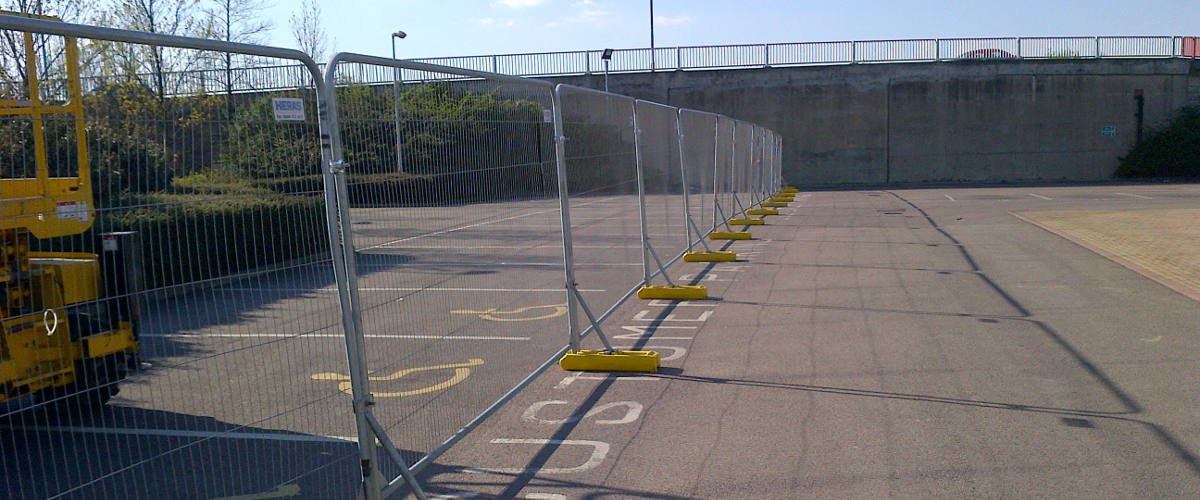 We supply many different types of security fencing to meet the demands of various construction projects, large scale events and more. Our knee rail fencing is designed to promote safety and security in retail areas and parking sites, making it easy for vehicles and trolleys to navigate. Our steel palisade fencing is robust and strong enough to act as the ideal security barrier at events with large crowds as well as for vacant sites where security is an issue. Our steel palisade fencing is highly durable and weather resistant and ideally suited to any high security situation.
We also offer our sturdy metal road plates, which are the strongest method of bridging trenches and excavations dug for cables, water mains, drainage, gas mains and road maintenance. Our road plates are strong and flexible enough to not break when extreme loads move over or stop on them. We have yards in Crawley and Gatwick that offer a fast, cost effective delivery service of our road plates to construction and maintenance projects in Brighton.
Helping Businesses of All Sizes
We offer our services to both the public and private sectors, from individual schools to major private sector companies GSK and Tesco. If your property, land, business or particular project is based in Brighton, Maltaward can offer you an outstanding concrete barrier service that is certain to live up to your expectations and provide you with an efficient security or traffic management solution on both a temporary or permanent basis. Our professional team of experts would be happy to listen to any enquiries you may have, so get in touch today and we can discuss all your concrete barrier options with you.
Contact us for all your concrete barrier needs!