If you're looking to add painted line markings and road markings to your site in Sussex or Surrey, Maltaward can provide you with a fast, efficient and service so that your markings are clear, making them an excellent guide for vehicles entering your site.
Car Parks 
We offer high-quality and durable line painting services for your car park. Whether you require traditional white and yellow linings or vibrant, coloured surface coverings, our specialist line marking and painting services are available in any design and colour.
We can mark car parks of any size and our combination of innovative techniques and top-quality materials ensure the best possible results at all times. Highly visible and clearly defined line markings enhance car park safety by allowing people in vehicles to easily navigate spacing as well as making it safer for any pedestrians walking through.
Our skilled workmanship means we deliver the quality you expect for marking out specific areas in your car park such as disabled and parent and child designated parking spaces and pedestrian walkways, as well as any custom requirements such as trolley areas and loading bays.
We can mark out car parks using our hot applied thermoplastic, cold applied MMA thermoplastic or Vialine spray paint onto concrete, asphalt and block paving.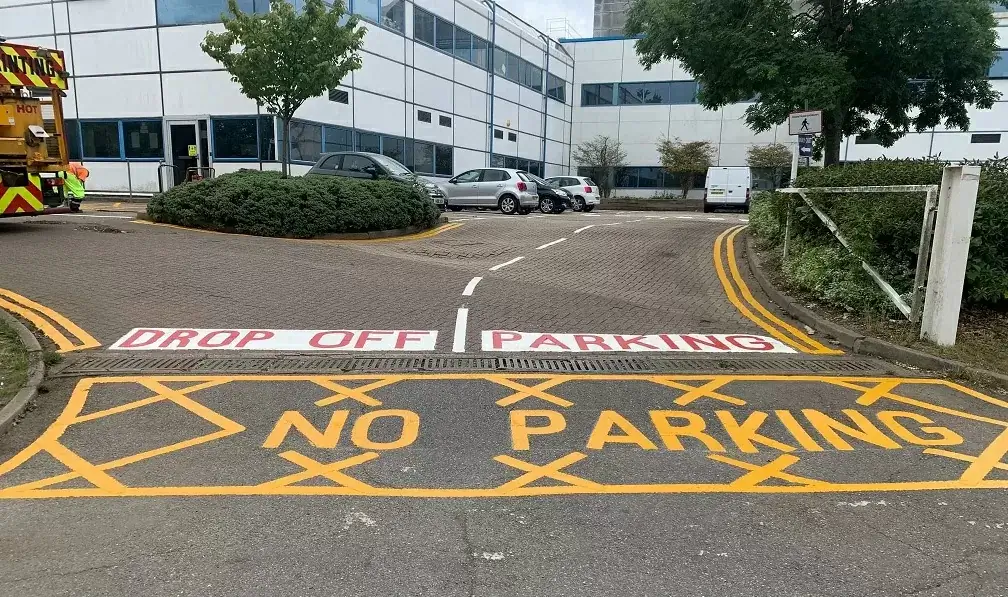 Steph Davies
2 November 2023
I have been using Maltaward for about 12 years, mostly using their traveller eviction services. They have always been very helpful and easy to deal with. No fuss, just get the job done! More recently in my new company, I have brought them in to use utilised their vacant security services. They have worked with me to provide the correct service for our specific requirements. They have a common sense approach to everything. I really cannot recommend the team enough. They have been without a doubt the best security company I have been involved with.
Tom Lampard
2 November 2023
Everyone, and I mean everyone!, from the office team to the guys that drop the barriers, at Maltaward is very responsive, polite and genuinely helpful! I have used them at several sites and they have never let me down!
Syanne Mara
23 January 2023
Amazing service as always with a quick response time. Maltaward always have a solution to all problems and execute any works or requirements swiftly and thoroughly.
Julie Curtis
23 January 2023
Excellent product & delivery. We have ordered from Maltaward several times and we can't fault them.
Quick turnaround and a good job. Many thanks .
Ian Rhoden
26 August 2022
Great experience Keith was top-notch
Declan Goldie
9 August 2022
I have used maltaward for years. Jim has been very helpful throughout this time. Thanks
Just wanted to say a big thankyou to your driver Del, although he didn't like nettles 🙂 he carried out the job with no bother. Would highly recommend Maltaward
School Playgrounds 
School playgrounds offer a vibrant and diverse environment for children to play and to learn. We work with our customers to create a tailor-made, functional and educational space for children. From educational games to decorative markings, our skilled workmanship combined with top-quality materials allow us to offer high-quality playground markings that are suitable for all indoor and outdoor sporting facilities.
We hold safety in the highest regard. We use Vialine paint or preformed thermoplastic and all of our paints are environmentally friendly and non-toxic and guarantee long-lasting results for your playground. Furthermore, the anti-slip coating ensures the safety of children at all times in either a playground or sports ground.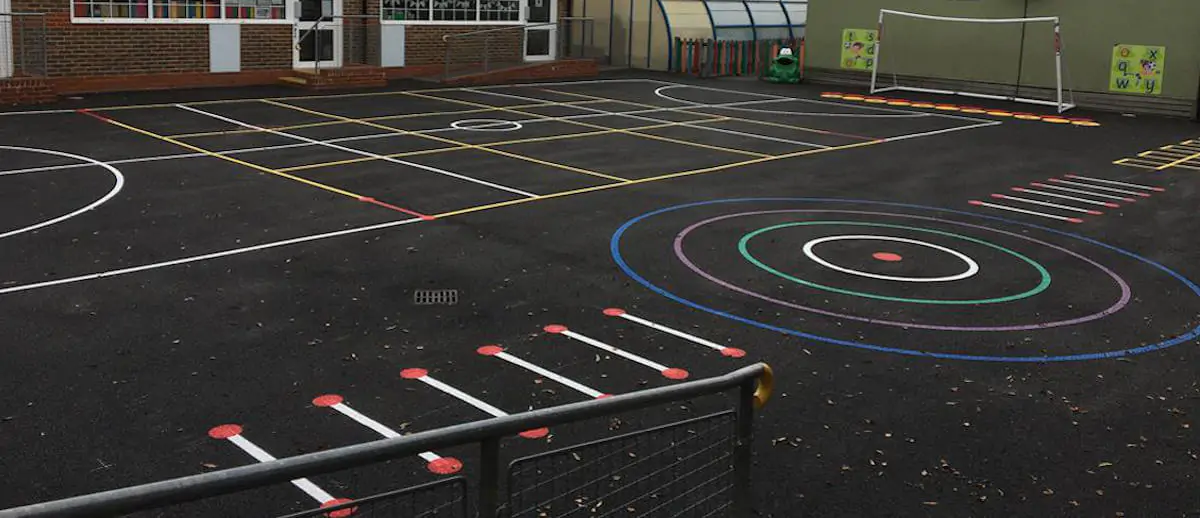 Road Marking 
We offer an expert road marking service and can create a wide range of line markings, in a variety of colours, shapes and sizes. Whether you require traditional road markings or completely bespoke lines, our painted road marking service incorporates the very best technologies.
Working on all kinds of road markings from a small junction to a main highway. Our experienced team of line markers install external lines on tarmac and concrete and can use the very best hot-applied thermoplastic marking materials. The line markings are environmentally safe, wear-resistant, anti-skid, bright and reflective. Our road marking service is fast drying and because it sets almost instantly it minimises any interruption to vehicle movement and can be driven over after just a few minutes.
We offer Hydroblasting water-jet line marking removal technology. It is an environmentally friendly technique that allows for the effective removal of specialist markings across a broad range of surfaces including playgrounds, carparks and sports courts.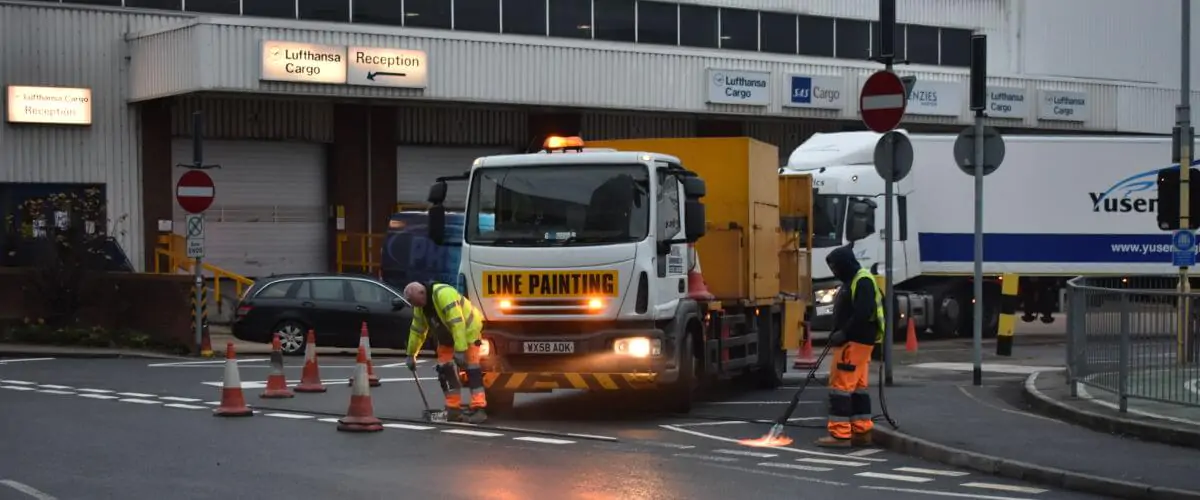 Request a Free Quote
Fill out the form below and we will get back to you ASAP.
Why Choose Maltaward Barriers?
Fast and Friendly Service
30 Years Experience with Proven Track Record
FORS Gold Certified
ISO 9001 Certified
Local Authority and Major Property Managers Approved
Heathrow & Gatwick Airport Approved
Range of Solutions to Suit Your Budget
What Our Clients Think Of Us
We are really greatful for you guys organising these barriers, the driver was early, took no time at all and we are now properly secure. We will only use you for this sort of stuff in future, 10/10 service.
Jak
Multiple compliments from staff and patients – I have been taking full credit.
Chaps did an excellent job – quick and efficient and spelling perfect!
Car Park Line Marking