Our high-quality steel security doors offer a reliable, durable way to keep your vacant property or building site safe. Designed to replace standard doors, steel doors are an excellent solution for keeping trespassers, vandals, thieves and squatters out of a building while making authorised access still possible.
Disused buildings and incomplete construction projects often attract the attention of trespassers, vandals and other kinds of low-level crime. If your property is not properly secured, you are leaving yourself vulnerable to criminal damage, squatter or traveller camps, liability for on-site injury (even to unauthorised persons), and the associated repair and legal costs. It's important to take preventative action, which is why, at Maltaward, we provide a fast, professional installation service.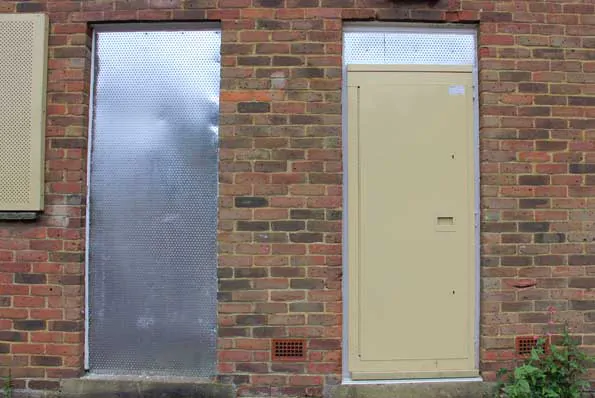 Why Choose Steel Security Doors?
Steel security doors cannot be breached without specialist equipment, making it virtually impossible for unauthorised access through doorways. Used in conjunction with Sitex security screens on window openings, steel doors protect vacant property from trespassers, vandals and squatters, resisting both brute force and fire damage more effectively than wooden alternatives.
Maltaward security doors are made from reinforced steel, strengthened by steel rods encased in insulative fibreglass. Doors feature a mechanical lock as standard but may be upgraded to a digital lock if preferred, and use a 12-point multi-lock system when closed. An expandable frame means that doors can be fitted to a range of opening widths, and heavy-duty hinges with anti-tamper bolts keep them in place.
Steph Davies
2 November 2023
I have been using Maltaward for about 12 years, mostly using their traveller eviction services. They have always been very helpful and easy to deal with. No fuss, just get the job done! More recently in my new company, I have brought them in to use utilised their vacant security services. They have worked with me to provide the correct service for our specific requirements. They have a common sense approach to everything. I really cannot recommend the team enough. They have been without a doubt the best security company I have been involved with.
Tom Lampard
2 November 2023
Everyone, and I mean everyone!, from the office team to the guys that drop the barriers, at Maltaward is very responsive, polite and genuinely helpful! I have used them at several sites and they have never let me down!
Syanne Mara
23 January 2023
Amazing service as always with a quick response time. Maltaward always have a solution to all problems and execute any works or requirements swiftly and thoroughly.
Julie Curtis
23 January 2023
Excellent product & delivery. We have ordered from Maltaward several times and we can't fault them.
Quick turnaround and a good job. Many thanks .
Ian Rhoden
26 August 2022
Great experience Keith was top-notch
Declan Goldie
9 August 2022
I have used maltaward for years. Jim has been very helpful throughout this time. Thanks
Just wanted to say a big thankyou to your driver Del, although he didn't like nettles 🙂 he carried out the job with no bother. Would highly recommend Maltaward
The Benefits of Using a Steel Security Door:
Provides a high-strength physical barrier into the property
Allows key-holders to easily gain access when required
Highly resistant to tampering, force and fire damage
Creates a visible deterrent to vandals and trespassers
Incurs minimal damage to property
Easy to reinstall normal doors when building is ready for occupation
Security Door Installation
Our steel security doors are installed and removed by our professional teams all over the UK, and cause little or no damage to the exterior of your building. Expandable frames allow for quick, secure installation on-site, and doors can be easily dismantled and removed once no longer necessary.
To keep the rest of your vacant premises secure, we recommend using steel screens to cover windows and non-critical doors, and using fencing or concrete blocks around the perimeter and across roadways. If you need any assistance in choosing the most effective security measures for your site to prevent trespassers, vandals or fly-tipping, our friendly team would be happy to discuss your requirements.
Protect an Empty Building with Steel Security Doors
Contact Maltaward today for professional installation of Steel Security Doors, or for more information about how to keep trespassers, vandals and squatters out of your property. Call us on 0800 043 2742 or use the form found on our Contact Us page.
Request a Free Quote
Fill out the form below and we will get back to you ASAP.
Why Choose Maltaward Barriers?
Fast and Friendly Service
30 Years Experience with Proven Track Record
FORS Gold Certified
ISO 9001 Certified
Local Authority and Major Property Managers Approved
Heathrow & Gatwick Airport Approved
Range of Solutions to Suit Your Budget
What Our Clients Think Of Us
Multiple compliments from staff and patients – I have been taking full credit.
Chaps did an excellent job – quick and efficient and spelling perfect!
Car Park Line Marking
We are really greatful for you guys organising these barriers, the driver was early, took no time at all and we are now properly secure. We will only use you for this sort of stuff in future, 10/10 service.
Jak