Vacant Property Protection
Ensuring the safety and security of your vacant commercial property is incredibly important, particularly in the case of unwanted visitors such as travellers and squatters. A vacant property can be an easy target for squatters, so it is important to ensure that appropriate safety measures are taken into account.
Maltaward provides a vacant property protection service that ensures the safety of your commercial space 24 hours a day, 7 days a week. We employ a number of proven techniques in order to ensure that your premises is not invaded by travellers or squatters and also provide a cleanup service in the event that your property is used by squatters.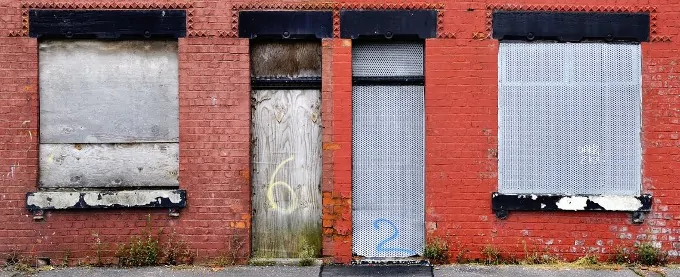 Maltaward offer a range of different security techniques including protective sitex screens, the hire of temporary fencing, the hire of concrete barriers which protects the site from vehicular access, the hire of metal window shutters, steel security doors, concrete bollards and more, all contributing to keeping your property safe at all times.
In the event that your commercial property falls victim to squatters or travellers, we have both male and female Bailiffs available and can serve notice from Monday to Friday and even evict on a Saturday in extreme cases.
We provide secure protection to vacant properties in Kent, Sussex, Surrey and throughout the UK. For more information about our vacant property protection or any other services we provide, please call us on 0800 043 2742 or email us at admin@maltaward.co.uk and we will get back to you as soon as possible.
Steph Davies
2 November 2023
I have been using Maltaward for about 12 years, mostly using their traveller eviction services. They have always been very helpful and easy to deal with. No fuss, just get the job done! More recently in my new company, I have brought them in to use utilised their vacant security services. They have worked with me to provide the correct service for our specific requirements. They have a common sense approach to everything. I really cannot recommend the team enough. They have been without a doubt the best security company I have been involved with.
Tom Lampard
2 November 2023
Everyone, and I mean everyone!, from the office team to the guys that drop the barriers, at Maltaward is very responsive, polite and genuinely helpful! I have used them at several sites and they have never let me down!
Syanne Mara
23 January 2023
Amazing service as always with a quick response time. Maltaward always have a solution to all problems and execute any works or requirements swiftly and thoroughly.
Julie Curtis
23 January 2023
Excellent product & delivery. We have ordered from Maltaward several times and we can't fault them.
Quick turnaround and a good job. Many thanks .
Ian Rhoden
26 August 2022
Great experience Keith was top-notch
Declan Goldie
9 August 2022
I have used maltaward for years. Jim has been very helpful throughout this time. Thanks
Just wanted to say a big thankyou to your driver Del, although he didn't like nettles 🙂 he carried out the job with no bother. Would highly recommend Maltaward
What You Need To Be Aware Of With A Vacant Property: The Top 4 Issues
When you are in possession of a vacant commercial property, it can be difficult to check up on the property regularly, particularly if you have a busy day to day schedule. However it is incredibly important to keep checking on a vacant property or at the very least to impose a variety of security measures onto that property, otherwise you can face a number of issues when you eventually come to sell or use the property.
Not taking into account accidental damages due to wear and tear, bad weather or general aging, these are the top four issues that many owners of a vacant property will have to face and it is important to have the relevant security measures to help reduce the risk of any of these incidents occurring.
Fire

Theft

Squatters

Vandalism
Request a Free Quote
Fill out the form below and we will get back to you ASAP.
Why Choose Maltaward Barriers?
Fast and Friendly Service
30 Years Experience with Proven Track Record
FORS Gold Certified
ISO 9001 Certified
Local Authority and Major Property Managers Approved
Heathrow & Gatwick Airport Approved
Range of Solutions to Suit Your Budget
What Our Clients Think Of Us
We are really greatful for you guys organising these barriers, the driver was early, took no time at all and we are now properly secure. We will only use you for this sort of stuff in future, 10/10 service.
Jak
Multiple compliments from staff and patients – I have been taking full credit.
Chaps did an excellent job – quick and efficient and spelling perfect!
Car Park Line Marking