Multi Applicational Safety System
A Better way of working safely
Maltaward are delighted to be suppliers of MASS for both sale and hire. This flexible solution is simple to install, offers an anti-vandalism design, is wind resistant and highly visible.
The MASS base unit is a steel barrier consisting of hot dip galvanised elements, powder coated in highly visible safety colours.  Each individual base unit links together via vertical pins and the various MASS top sections can be added according to the specifications of the job.

MASS 1 is the basis of the MASS system, used in many applications throughout Europe due to its versatility.  It ensures a stable secure connection and is a highly visible safety solution.  MASS 1 provides protection to vehicle drivers, pedestrians and work force having been fully tested to T2 and W5.
MASS Pedestrian Guard is a cost-effective solution to improving public safety, tested to current European standards.  MASS Pedestrian Guard is a development of the vehicle restraint system MASS 1.
(High Visibility Pedestrian Rail)
Complying with chapter 8 of the "Traffic Sign Manual", MASS Visirail Guard is vandal-proof and has minimal wind loading.  This product combines a high visibility steel security rail with the benefits of the MASS Pedestrian Guard.
This is a galvanised, anti-climb mesh fencing.  With gates also available, MASS Siteguard offers the site high security for both the equipment and the workers.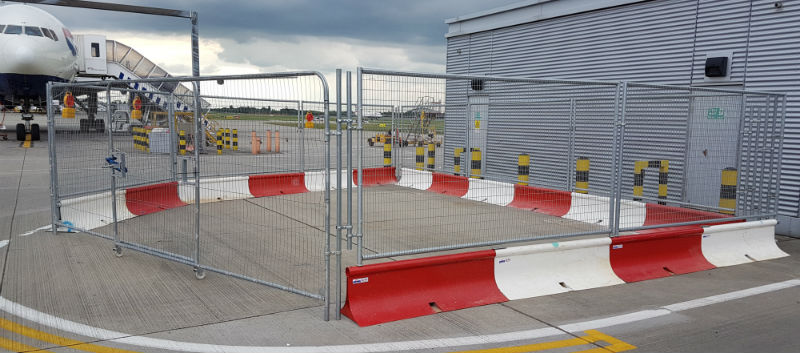 This high steel hoarding panel offers security combined with easy assembly in a range of situations, for use on worksites where privacy is required.
The MASS steel base unit provides the foundation for the five guard elements that can be interchanged without having to replace or purchase new sections of base.
We pride ourselves on our knowledge and expertise on a variety of temporary barrier applications and will always consider solutions to unusual circumstances.
Frequently Asked Questions
How big are MASS barriers?
Maltaward MASS barriers are 1.5m long and 0.5m at the widest point. On its own, the base unit is 0.42m tall, although various panels and fence elements can be integrated to the top to increase the maximum height. The weight of an individual base unit is 48kg.
How do MASS barriers fit together?
Base units connect to each other using vertical pins, with anchors at either end of the chain. The pins allow for units to be rotated by 180° so that barriers can be formed into curved or angular layouts.
Can MASS barriers be used at the roadside?
Yes, they are ideal for roadside use and act as a robust barrier between pedestrian areas and vehicles.
The high visibility paint makes MASS barriers better suited to roadside use than plain alternatives, and the units do not need to be drilled or fixed into the road.
Are the barriers easy to move?
Yes, making each unit much more portable than concrete blocks. Dismantling and repositioning is straightforward, allowing you to set up, transport and adjust entire barriers with little disruption to a busy site or high-traffic area.
What are the options for additional MASS fencing?
We provide four types of panels that can be mounted to the top of your MASS base unit for additional security. More information about each type can be found in the sections above, and you can contact us if you require specific information about any of the fence specifications.
What is the best type of additional fencing for my site?
The most appropriate type of barrier will depend on the nature of your site and the type of traffic you expect around your barriers.
In general, our clients choose MASS Pedestrian Guard and MASS Visirail Guard units when their main concern is creating a safe barrier between pedestrians and vehicles. MASS Siteguard fencing and MASS Screenguard panels are more appropriate for preventing unauthorised access into a specific area or to obscure visibility of expensive equipment.
How quickly can you deliver MASS barriers?
These are a highly popular product and we typically have a complete range of MASS base units and upper fencing elements available for immediate client use. If you require a versatile barrier solution urgently, get in touch and we will arrange for one of our teams to deliver as soon as possible.
Alternatively, the shape and weight of MASS barriers make them relatively easy to handle, store, transport and assemble so you may decide that it is more convenient for you to collect them yourself. We are happy to accommodate this – simply give us a call and we will start working on the most effective security solution for you straight away.
Contact Us
Please contact us to discuss your requirements on 01293 854930.
Use the form below to contact us for all your highway needs