Multi Applicational Safety System
A Better way of working safely
Maltaward are delighted to be suppliers of MASS for both sale and hire. This flexible solution is simple to install, offers an anti-vandalism design, is wind resistant and highly visible.
The MASS base unit is a steel barrier consisting of hot dip galvanised elements, powder coated in highly visible safety colours.  Each individual base unit links together via vertical pins and the various MASS top sections can be added according to the specifications of the job.

MASS 1 is the basis of the MASS system, used in many applications throughout Europe due to its versatility.  It ensures a stable secure connection and is a highly visible safety solution.  MASS 1 provides protection to vehicle drivers, pedestrians and work force having been fully tested to T2 and W5.
MASS Pedestrian Guard is a cost-effective solution to improving public safety, tested to current European standards.  MASS Pedestrian Guard is a development of the vehicle restraint system MASS 1.
(High Visibility Pedestrian Rail)
Complying with chapter 8 of the "Traffic Sign Manual", MASS Visirail Guard is vandal-proof and has minimal wind loading.  This product combines a high visibility steel security rail with the benefits of the MASS Pedestrian Guard.
This is a galvanised, anti-climb mesh fencing.  With gates also available, MASS Siteguard offers the site high security for both the equipment and the workers.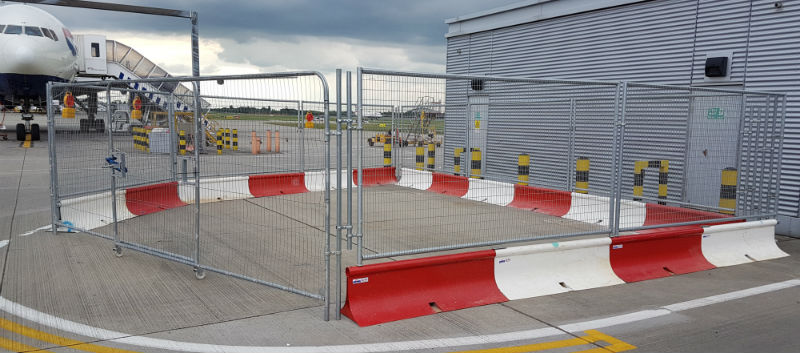 This high steel hoarding panel offers security combined with easy assembly in a range of situations, for use on worksites where privacy is required.
The MASS steel base unit provides the foundation for the five guard elements that can be interchanged without having to replace or purchase new sections of base.
We pride ourselves on our knowledge and expertise on a variety of temporary barrier applications and will always consider solutions to unusual circumstances.
Frequently Asked Questions
Contact Us
Please contact us to discuss your requirements on 01293 854930.
Use the form below to contact us for all your highway needs