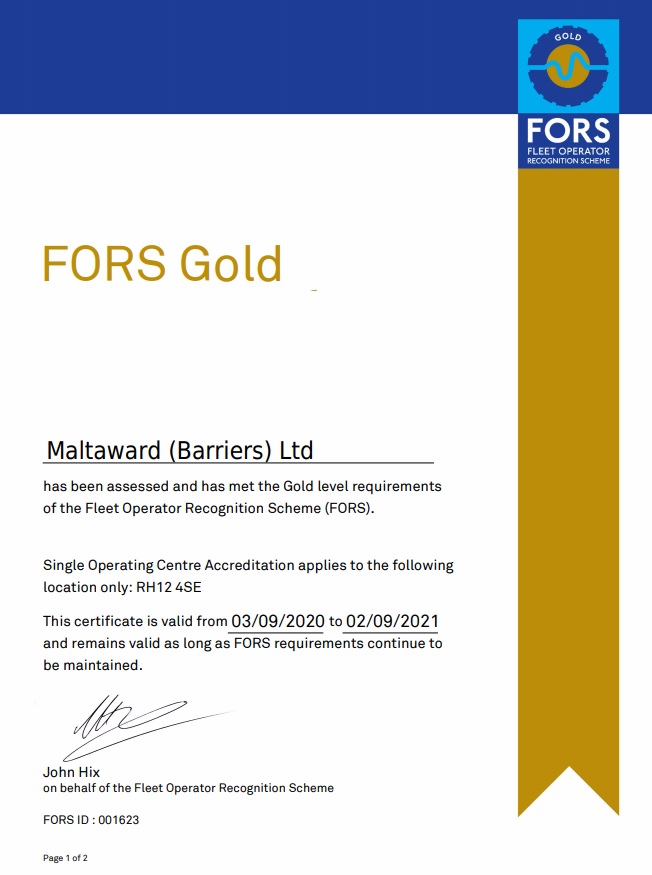 As one of the Country's leading concrete block and security supplier, Maltaward (Barriers) Ltd, is celebrating its membership to the FORS Gold Standard which supplements the recent renewal of the Silver and Bronze Standards of this prestigious accolade. We successfully upgraded our FORS accreditation from Bronze to Silver and we are proud to confirm that we now hold the Gold standard, the highest status within the scheme.
The Gold accreditation is only awarded to exceptional operators who have met exacting targets and FORS standards when formal company audits are carried out by an independent FORS certification body.
The Fleet operator accreditation scheme marks Maltaward (Barriers) Ltd. as a leader in fleet transport best practice with exemplary levels of safety, efficiency, and environmental awareness throughout all our operations.
Maltaward (Barriers) ltd continues to invest in all aspects of its transportation activities, combined with efficiency and sustainability, including all Euro 6 compliant vehicles, giving us nationwide coverage to Facilities Managers, Property Agents and Construction projects.
All our vehicles have been specified with the latest safety technology, including Lane Departure Warning System as standard, which gives drivers an audible warning if there is an inadvertent change in direction. The trucks are also compliant with London FORS specification, including vision doors, cameras and audible sensors and have been fitted with remote loading/unloading avoiding the need for the driver to access the rear of the vehicle, reducing the possibility of a fall.
"Safety is a leading priority throughout all aspects of our business, specifically with regard to transportation."