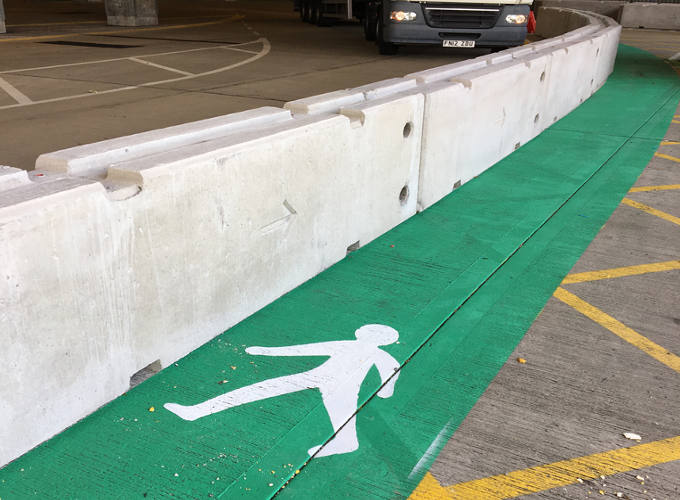 We have just completed a job for our client at Heathrow.
They had an incident on site and the HSE were involved and the client was given a 7 day improvement notice.
We were asked to attend site on the Monday morning to go through what needed to be done.
We had to deliver and install 95no Concrete Barriers, we had to place them and paint them Red and White and place them at night to create Pedestrian walkways. In conjunction with this we also had to line mark the walkways with green road markings, pedestrian symbols, solid white lines for the walkways and create new crossing points saying, STOP LOOK BOTH WAYS.
We worked in our usual reactive way, we painted the concrete barriers in our yard on the Tuesday, delivered them to site on the Wednesday on days , then we painted the walkways and installed the barriers on the Wednesday, Thursday, Friday nights and went back in to complete the final bits on the Sunday day, ready for HSE inspection on the Monday morning.
Our client was very pleased with the way we got the job done, and was even more pleased when HSE said they were pleased to.
This is why our customers come back to us time and time again.
It doesn't matter if it is a small job or a big job we always try our best to get the job done.