I need access to my site, but have concrete barriers in the way!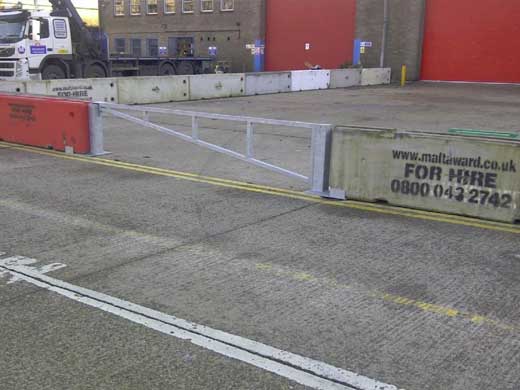 Does this sound like a problem you have?
The most common problem with having TVCB BS EN 1317 concrete barriers installed is getting access to your site when you need it!
Until now the solution has been expensive and time-consuming call outs to move the barriers allowing access. Now Maltaward have devised an ingenious solution allowing you easy access whenever you want it but still retaining the security you need, saving you time and money and giving you peace of mind.
THE SOLUTION – GATESAFE BARRIER
So what is a gatesafe barrier I hear you ask? Well it's a unique access system that works in conjunction with Maltaward's TVCB barrier systems allowing easy access to your site without losing any of your security benefits.
HOW IT WORKS
Simply place a Maltaward TVCB barrier either side of the unique gatesafe barrier, giving you a secure site with easy access any time.
the 4m wide gate is manufactured from high quality galvanised steel and comes complete with lock box and padlocks keeping your site secure but allowing easy access whenever you need it.
Call free for purchase or hire on 0800 043 2742