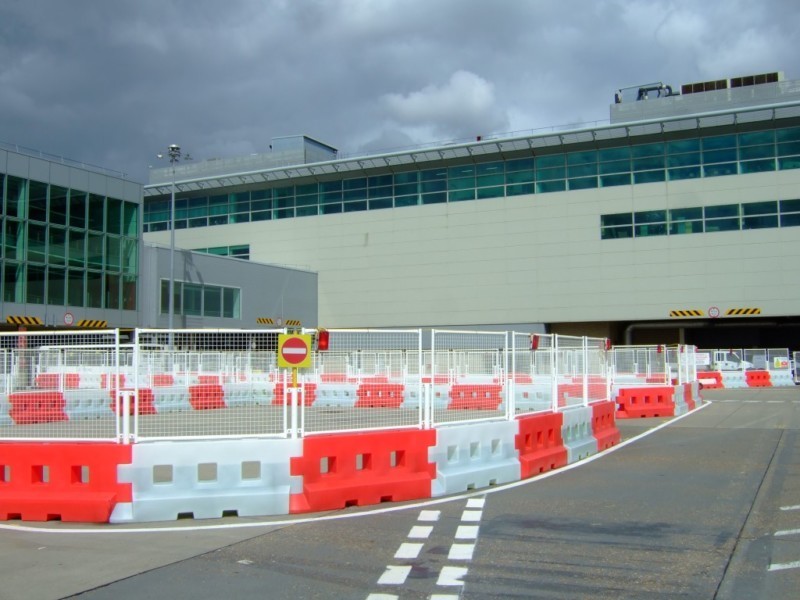 At Maltaward, we have years of experience working with water-filled barriers. These barriers can be extremely valuable and have a wide range of uses across various industries. In this blog we take a closer look at the benefits of using water-filled barriers, and where they can be most effectively used.
The pros and cons
Water filled barriers, as their name dictates, are designed to be at their most effective when filled with water, (or indeed sand as an alternative). This helps provide weight, rigidity, stability, and strength to the infrastructure.
When empty, they are light to transport, stackable, so easy to store, and quick to deploy. They also tend to offer a variety of angled solutions if you do not always want straight lines. They are additionally likely to reduce vehicle collision damage whilst still offering a good degree of protection for workers, pedestrians, and property.
Most ranges support additional height barrier options to protect pedestrians and to manage and control segregation, intrusion, or perimeter defence. The majority also have forklift slots to enable moving when full.
If there are disadvantages to using water-filled barriers it is probably that their effectiveness is reduced if not filled. They do need filling, and then emptying for transportation so can require support services to achieve this. Additionally, they are made from plastic, which can be damaged, preventing the barriers from retaining water.
It is important to select the right type of barrier for the threat protection required.
RB22 Crash Barriers – Speed Protection
This is a quick deployment barrier without the need of heavy lifting equipment, and crash tested to 50mph and approved to BS EN1317-N1.
Once filled, it can withstand wind speeds of up to 78mph. Barriers are available in Red & White with a range of angles to support bends and curves. The range supports attachable mesh panels, hoarding panels and both pedestrian and vehicle gates. It is suitable as a heavier duty barrier for segregation where vehicles are travelling at speeds up to 50mph.
Specifications: L 2000mm x H 800mm x W 500mm – Empty 60kg, Full 600kg
2. GB2 Barriers – Heavy Duty
This is also a quick deployment option for 2 people without heavy lifting equipment as it is a 2m barrier. It is an interlocking barrier that allows up to 35-degree angles making it a flexible option.
Manufactured out of UV stabilised plastic that can accommodate water or sand fills that make it stable and rigid. Barriers are fully stackable for transportation and storage. A plastic pin secures barriers together and they can withstand wind speeds up to 77.9 mph.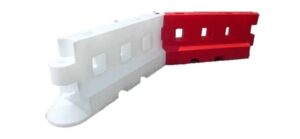 The barriers also support a powder coated hoarding, mesh and combination panel and have both pedestrian and vehicle gate options as well as infill panels (available separately) for the square holes in the barrier.
Specifications: L 2000mm x H 900mm x W 500mm – Empty 32kg, Full 350kg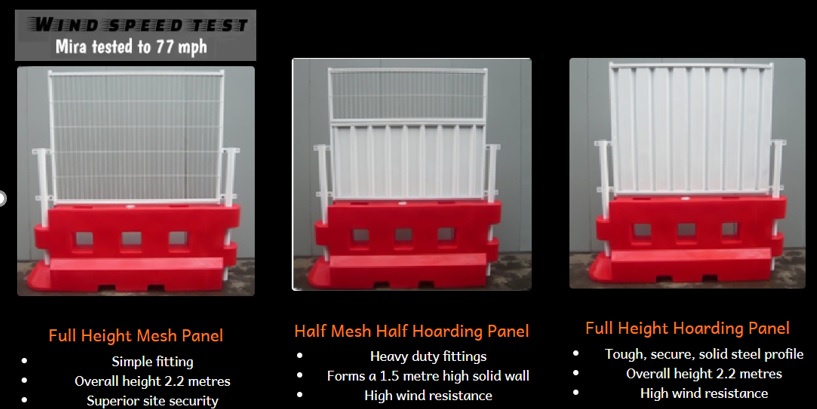 Evo Road Barriers – Medium speed vehicle, perimeter, and pedestrian protection
Evo barriers come in 3 sizes and they have a unique design in that they interlock with one another both horizontally and vertically, creating a robust barrier solution. Linked they create a barrier with no gaps.
These barriers are ideal for separating pedestrians from lower speed vehicles and are quick and easy to install as interlocking barriers.  Can be water or sand filled and come with mesh & barrier panel options to go on top. There is also a 90-degree corner option. When filled, they can withstand wind speed up to 55mph.
The traditional colours are red and white, but other colours can be produced.
EVO Road Barriers come in each of the following options:
1m EVO Road Barrier. Dimensions: 1000mm x 400mm x 555mm.
5m EVO Road Barrier. Dimensions: 1500mm x 400mm x 555mm.
EVO 80 Road Barrier. Dimensions: 1200mm x 400mm x 800mm
Mini Mesh Panel / Reflective Plank Panel. This can be fitted to both the 1 metre and 1.5 metre EVO Road Barriers to increase the barriers' overall height.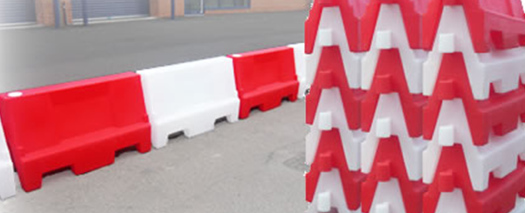 Euro Barriers – Medium speed vehicle, perimeter, and pedestrian protection.
Euro barriers are an alternative to Evo barriers available in 1 and 2 metre lengths but are taller at 650mm and wider at 550mm and ultimately heavier as a result when filled. Manufactured from UV stabilised polyethylene for strength and reliability.
As with the Evo Barriers, the Euro Barriers will accommodate both the post and plank and mesh panel accessories.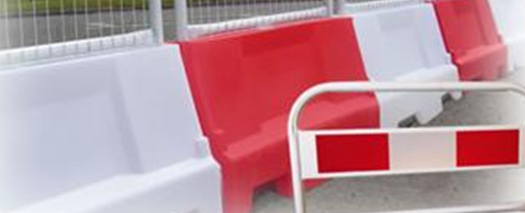 RB1000 Barrier – Heavy duty
The RB1000 is primarily designed for indoor and outdoor safety barrier for racetracks. Low to the ground to allow site over the barrier, it is versatile in that it links with no gaps, as well as allowing the creation of bends, and offers a 45-degree bend piece as well as end stops and plank adaptor. When filled with water, they can cope with vehicle collisions.
They can also be used for demarcation and segregation on a myriad of locations like construction sites, industrial parks and more. Alongside all of this they are quick to set up and manufactured from UV stabilised polyethylene for strength and reliability.