We have developed our core business based around proven Civil Engineering expertise. The Company's high level of skill and experience enables us to work in specialised environments such as prisons, hospitals, airports and pharmaceutical facilities.
We have also developed a wealth of experience installing drainage systems and a core business of ours is the highway and infrastructure construction services provided to Local Authorities.
Examples of some of our Civil Engineering Work include;
Langley Green, Crawley
Regeneration of local shopping parade.
This £1M project consisted of the regeneration of Langley Green shopping parade involving the reconfiguration of the road and parking layout, drainage, surfacing and soft and hard landscaping.
All work was carried out with minimal disruption to shops and residents.

– Specially commissioned street art installed on lamp columns & bollards
– Automated Recycling bins
– Pallas paving with conservation kerbing and sets
Kingston Hospital
Road and car park re-alignment to enable the expansion of hospital buildings.
This project required works to be completed outside a busy A&E department with no disruption to traffic movements.

– Earthworks and retaining wall
– Footpath re-alignment
– Safety kerbing, new drainage installation and road surfacing
Warehouse Extension, Horsham
1000m2 extension to an existing warehouse including the associated infrastructure, drainage, surfacing and reinforced concrete floor slab. For a private client with work carried out on an operational facility with minimal disruption.

– Excavation and earthworks
– Foundations, steel fixing, formwork and concrete pour to a high spec design
– Drainage, car parking, access road, surfacing and line marking
Bridge Replacement
The replacement of an existing bridge over the Rother in 2010 was a scheme for WSCC. A new steel bridge suitable for both equestrians and pedestrians was prefabricated off site and installed with heavy lifting equipment.
The contract required the reconstruction of the approach ramps and installation of new fencing.

– Reconstruction of ramps
– Fabrication & installation of new bridge
– Installation of fencing
Speed Bumps & Barriers, Bristol
The installation of barrier and speed bumps at Boeing UK headquarters in Bristol, completed in 2016.
The contract required the reconstruction of the approach ramps and installation of new electronic gate barrier.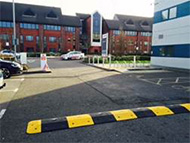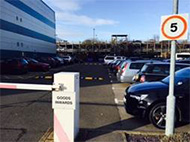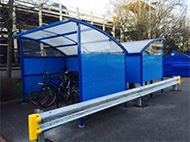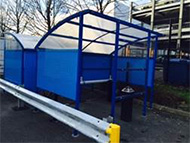 Contact Us
Use the form below to contact us today.