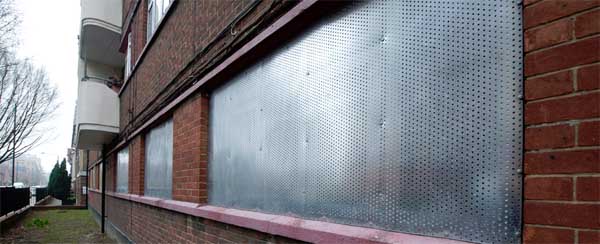 Maltaward has a range of professional solutions to help protect your property, land, vacant premises or industrial units from unauthorised access and damage. From window security shutters and temporary security fencing to concrete barriers and fixed metal bollards, we can put effective tools at your disposal to safeguard your property and put your mind at ease.
Concrete Barriers
Maltaward's vacant property protection security services can be the perfect solution to deter traveller invasion or put an end to fly tipping on your land. Also known as concrete blockades and delta blocks, our temporary concrete barriers can be used to secure sites throughout the UK. Concrete security barriers prevent unauthorised access to remote or unguarded premises and land.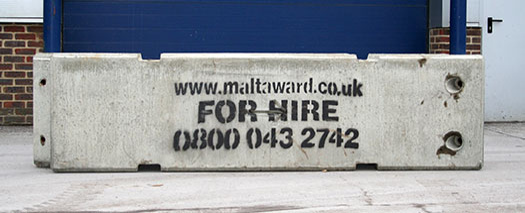 Maltaward offers the temporary or permanent installation of concrete safety barriers and TVCBs (Temporary Vertical Concrete Barrier). Concrete barriers are available for purchase, or you can rent our concrete barriers on a long term or short term hire basis.
Maltaward also supplies and installs security barriers – including height barriers, tractor gates, telescopic bollards, fixed metal bollards, concrete bollards and tubular steel bollards for car parks. We can fabricate bespoke items and any type of security barrier required to protect your property, premises or land. We also manufacture Malta Block Concrete Road Barriers, with our own temporary gate system.
Temporary Security Fencing
At Maltaward, we are acutely aware of the need to keep trespassers out of construction sites, empty properties and vacant land. We can supply suitable fencing for hire or sale, and we offer a broad range of temporary security fencing solutions to help secure your premises.
Our temporary security fencing solutions can also be deployed to facilitate temporary queuing systems and for the purposes of general crowd control.
Window Solutions
Offering a nationwide service, Maltaward specialises in empty property protection and can supply window security shutters, security grilles and metal window security screens (SITEX security screens) for your peace of mind. Our window security systems are available for hire or for sale. We can also provide steel security doors.
From office blocks and commercial or retail premises to houses and blocks of flats anywhere in the UK, Maltaward is experienced in dealing with a wide range of clients including local authorities, government agencies, commercial organisations and private clients. Why not contact Maltaward today for a quotation on vacant property security solutions?


Traveller Evictions
If you are the owner of commercial premises or have vacant plot of land, securing your property against travellers or squatter occupation or will be a key priority.
In addition to installing security grilles, window security shutters, fencing solutions and concrete barriers, Maltaward offers a vacant property protection service. For your ultimate peace of mind, we use a range of proven techniques to keep your commercial space safe 24 hours a day 7 days a week.
 Contact us for all your security service needs