Maltaward offers construction site CCTV towers with standalone wireless camera systems. Our complete CCTV Camera security system includes remote monitoring, ensuring quick security dispatch when required. Our CCTV systems help to deter intruders as well as preventing theft and vandalism. Our cameras deploying automated sirens and voice-warning features with automatic detection from the intrusion of travellers, squatters or attempted theft.
Please read on for details on the systems we currently provide:
Rapid Deployment CCTV Tower Systems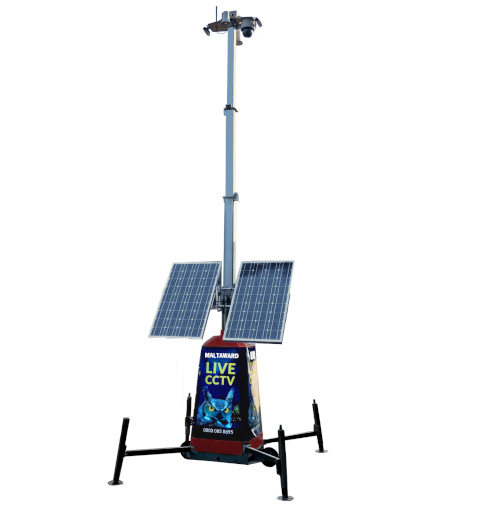 Our 6-metre CCTV tower system with wireless options is a popular choice for construction sites. It's rapid installment and choice of features for short term battery operated CCTV or long term solar panel or mains powered use are suitable for many construction sites.
Some of the key features of a CCTV Tower include:
HD cameras
Automatic video recording, pre-recorded voice warning and siren
6m extendible mast to suit sites of all sizes
The option for battery-powered, integrated solar panels or mains power
Rapid deployment
Standalone Wireless CCTV systems
We also offer Wireless Standalone Camera Systems for construction site security. Positioned on fences, buildings, and posts, this provides the site a more flexible surveillance coverage to include areas where a tower may have restricted views. The cameras are standalone and wireless, so they can be placed anywhere across your site without having to worry about how they need to be wired.
Some of the key features of the Wireless CCTV System include:
Wireless for flexible setup and placement
Fast installation, relocation and removal
No mains power or internet connection required
Long battery life as cameras only operate when triggered
24/7 Monitoring
No limit on the number of cameras
Complete standalone system
Contact us Today
Are you interested in having CCTV installed at your construction site?
Please get in contact with the team at Maltaward today. Our experienced staff can talk you through the range of options available and provide and information you require. You can call us on 01293 854 930 and or email admin@maltaward.co.uk and we will get back to you as soon as possible.