Maltaward's high quality Sitex security screens stop vacant property becoming an easy target for unwanted visitors and illegal activity. Sitex screens are a purpose-built alternative to wooden boards, and offer better security and fire resistance in the event of attempted break-in or arson attack.
It's common for disused buildings to attract low-level crime, such as vandalism, squatting and trespassing. Rectifying these issues can incur significant legal and repair costs, so it's important to take preventative action to protect your premises.
Why Choose a Sitex Screen?
Security screens make it virtually impossible for windows and doors to be breached without specialist equipment, and present a more resilient barrier to brute force and fire damage when compared to traditional wooden boards.
Maltaward security screens are pre-fabricated from a single sheet of zinc-coated steel, folded into panels which completely cover window and door openings. Each sheet is machine-perforated for ventilation and to allow light into the building, while keeping unauthorised persons out.
The Benefits of a Sitex Security Screen Include:
• Resilience against force and fire
• Provides a visible deterrent
• Creates a high-level physical barrier
• Minimal damage incurred to property
• Allows light and air in to prevent damp or staleness
• Custom shapes and sizes available for irregular doors and windows
• Easy to reinstall doors and windows when required
Maintain access to the building by installing a Maltaward steel security door, and combine with perimeter barriers, such as concrete blocks or temporary fencing to keep both buildings and land inaccessible to trespassers.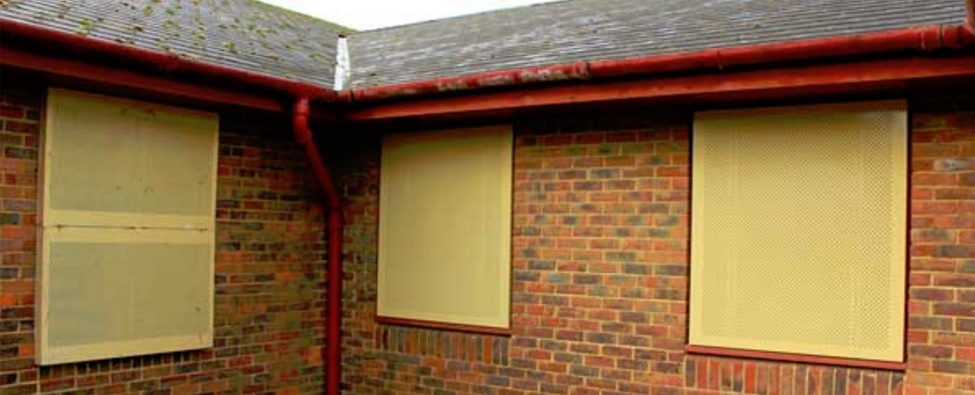 Security Screen Installation
Maltaward's Sitex security screens are fitted and removed by our professional teams across the UK, and their condition is regularly inspected for signs of damage or tampering.
Each screen is designed to completely cover an individual door or window, eliminating weak spots occurring from multiple sheets being bolted together. Sitex screens are fixed in place using tamper-proof bolts into an internal steel frame, to create a solid, impenetrable barrier while inflicting little or no damage to the exterior of your building.
Where openings are a difficult or unusual shape we will install perforated sheet steel, cut to size by our technicians on site.
Keep Your Building Secure
To book an installation of Sitex security screens, or to discuss the options for keeping your premises protected against trespassing or vandalism, contact Maltaward today.
Contact Us
Use the form below to contact us for all your security needs!