Maltaward are a well known supplier of a range of Kentledge blocks, hoarding blocks and anchor blocks.
Available as a 500 kg block and a 1000kg block, our Kentledge blocks are sturdy and capable of providing much needed stabilisation. The ballast blocks can be used on a standalone basis or can be mechanically integrated into construction to provide the right level of anchorage for any temporary structure.
Precast concrete Kentledge blocks are deployed to act as ballast weights or counterweights to provide stabilisation for a variety of temporary structures and works such as;
Site hoarding and fencing
Securing one side of the fence or hoarding with hoarding blocks provides immense stability and rigidity, even where structures face severe wind loads. The effectiveness of the blocks means support can be applied to one side only, leaving the face completely clear, unobstructed and visually pleasing.
Scaffolding
Kentledge blocks provide 100% secure anchorage for scaffolding, including sheeted structures. The blocks add mass to the structure as well as rigidity because the anchor blocks can be mechanically integrated into the framework.
Rigging and stagework
Kentledge blocks make ideal counterweights on cantilevered structures, the heavy weights providing robust support on minimal footprints. Useful for rigging staging, lighting gantries or other tubular structures, the blocks can be mechanically coupled to the structures for extra rigidity and safety. Where structures have sheet cladding, such as stage or start/finish gantries, the blocks can be integrated into the core structure without visually affecting the exterior.
Marquees and events
Providing anchorage for marquees, anchor blocks can be strapped to the main support guys, thus eliminating pegging, which may be particularly useful for hard surface marquee erections.
Cranes and towers
In addition to anchorage and stabilisation for temporary structures, our Kentledge weight blocks are often used to provide stabilisation for large cranes.
Maltaward's concrete Kentledge blocks also have a wide range of other uses such as concrete test weights and ballast weights.
Click on the image below to enlarge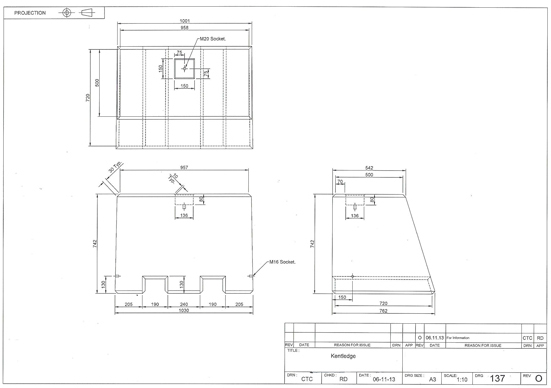 Frequently Asked Questions
Contact Us
Maltaward is a leading UK supplier of a wide range of concrete blocks and barriers for a multitude of civil engineering applications and security solutions. As a CHAS accredited contractor, we can offer expertise and security whether you require fork lift hire, security and fencing options, or concrete barriers for your commercial premises or building site.
For more information on Kentledge blocks, hoarding blocks and anchor blocks, or to find out Maltaward's other products and services, please get in touch today. Speak to one of our friendly team on 0800 043 2742, email your query to admin@maltaward.co.uk or contact us here.
Use the form below to contact us for your query regarding Kentledge blocks, anchor blocks or hoarding blocks.