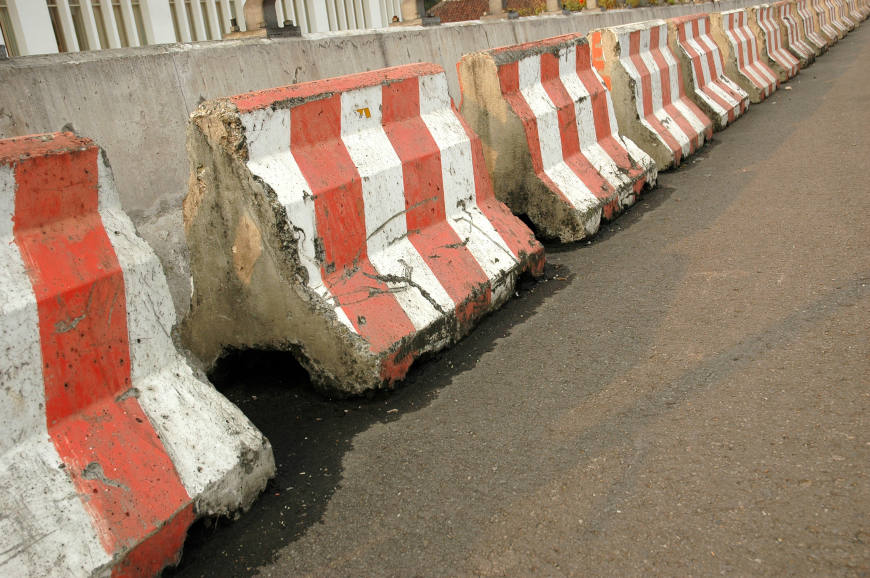 Concrete barrier systems are often used in all sorts of ways, providing a safe, secure and stable means of creating an immovable barrier.
Whether it be for farming, flood prevention, traffic management or building works, the versatility of concrete barriers makes them a great choice for a number of events and purposes.
However, with a range of options to choose from, identifying which type of concrete barrier is best for your needs can be a lot easier said than done. So, we thought we'd try and help.
In this guide, we will run through the various types of concrete barriers available, highlighting the key details about each one to help guide your decision-making process.
That way, you will be able to feel rest assured that the barrier you choose is the right choice for your individual circumstances.
TVCBs
TVCBs – or Temporary Vertical Concrete Barriers as they're otherwise known – are a fully interlocking system that can be installed more or less anywhere.
The ideal choice for businesses looking to create safer working environments, this type of concrete barrier is also used to protect pedestrians from traffic and to help direct the flow of traffic in a safe manner.
What's more, they are also a highly effective form of flood defence and a great way to provide additional security against potential protests, ram raiding or terror attacks.
The vertical yet universal design of each barrier also includes a visible, pre-cast arrow within it, allowing the barriers to not only protect but also direct road users.
Concrete Legato XL Interlocking Bricks
Available in a wide range of sizes and weights, concrete XL Legato blocks work in a similar way to Lego, utilising an innovative interlocking design and lifting anchors cast into each block.
Each block will build approximately 1.28 m2 of wall, providing an incredibly quick and adaptable solution for a wide range of situations.
Whether you're looking to build a retaining wall, support wall, concrete push wall, bay wall, silage bay or a site security solution, Legato blocks are incredibly versatile and, due to their strength and durability, will also provide a fantastic flood or sea defence solution.
Quick and easy to assemble, one of the key benefits of using concrete Legato blocks is the fact that they can be moved and reconstructed at any time, making them one of the most convenient industrial solutions available on the market.
What's more, due to the wide variety of sizes available, the blocks can easily be customised to meet exact measurements. Plus, thanks to their relatively low weight, they can be deployed and assembled much more quickly than other forms of concrete barriers.
Security Concrete Blocks
As their name suggests, security concrete blocks are a heavy-duty form of concrete barrier designed with security in mind.
The ideal choice for use in preventing access to land, buildings or specific areas at an event, security blocks tend to be a lot heavier than other forms of concrete barriers, with weights typically ranging between 3800kg and 4500kg.
However, despite this additional weight, forklifts make can light work of lifting them, enabling them to be moved both quickly and easily to whichever location you need them to be.
They are also a ram-resistant and cost-effective form of barrier that are typically fitted along fencing or across gateways to prevent any unauthorised or unlawful access.
Kentledge Blocks
Another form of concrete barrier designed to be incredibly sturdy, Kentledge Blocks provide much-needed stabilisation for a variety of purposes.
Whether used on a standalone basis or mechanically integrated into construction to provide the right level of anchorage, this form of concrete block is typically used to act as a ballast or counterweight to stabilise temporary works and structures.
Providing 100% anchorage to scaffolding and other types of building structures, Kentledge blocks are the ideal solution for scaffolding work, rigging, stage work and marquee stabilisation. As such, they are often seen used at events of all sizes – from large festivals to smaller marquee-based weddings.
Final Thoughts…
So, there you have it – the four main types of concrete barriers available.
Choosing the right one for your specific needs will largely depend on what you intend using it for.
If, for example, you are hosting an event, a Kentledge concrete block would be best equipped to support the building structures, whereas a TVCB would provide a better means of managing the event traffic.
Here at Maltaward, we have helped a huge number of clients with a wide variety of needs. So, for further advice and assistance on which type of concrete barrier is right for you, why not contact our team at your earliest convenience? We're only ever a phone call away.