Securing a construction site is incredibly important if you want to continue at a steady pace without setbacks from possible vandalism attempts. If construction sites are left unattended for long periods of time while you wait for planning permission or crucial materials to help with the build, they can fall victim to squatters, accidental fires and even vandalism. With the help of a professional company such as Maltaward there are a number of security measures you can put in place to discourage intruders while the construction site is not in use.
Prevent Vehicular Access
Preventing caravans and trucks from entering your construction site is a great way to stop intruders from entering the site in the first place. By using temporary vertical concrete barriers you can easily block off entrances to your site and prevent vehicular access whenever you need to.
Maltaward also offer fixed metal bollards and tubular steel bollards for car parks which provide expert security during the weekends or in the evenings when construction stops. Available for hire or for purchase, temporary concrete barriers are among the most highly successful deterrents for intruders on construction sites and vacant land.
Temporary Fencing for Flexibility
If you need to restrict access to the construction site, however you still need to make regular visits to the site to check on construction work or for another reason it is a good idea to install temporary security fencing.
With a variety of different fencing options available including Steel Palisade Fencing which is specifically designed for heavy duty, industrial strength security, temporary fencing is built for security and provides an excellent alternative to concrete barriers. Our range of temporary security fencing is also available for hire or to buy.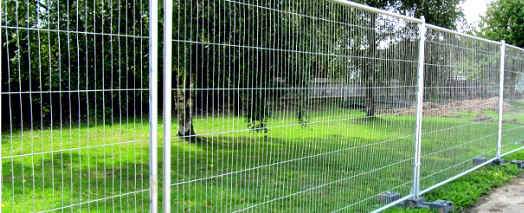 Install CCTV Systems
Normally something as small as installing a camera that doesn't even work will help to deter vandals as they will see the camera and think it too much trouble to bother with. CCTV systems are a fantastic way to increase security on a construction site as they can be constantly monitored for changes and can be set up to overlook more than one part of the construction site at once.
CCTV Systems are also useful if you cannot regularly physically go and check on your construction site and also serve as a good way to collect evidence if your site is vandalised or falls victim to arson.
Regularly Check the Site
Security systems can do so much to help protect your construction site from vandalism and squatters; however the best visual deterrent is to show that the site is in use. By making regular visits to the construction site and by ensuring that construction goes ahead at a steady pace you can easily deter unwanted visitors.
Inspect your site for debris and combustible materials to avoid an accidental fire. If your construction workers have to take a break, try to ensure that it is only for a few days as opposed to a fortnight long vacation. Diligence is importance as vandals and squatters will be far less likely to make an attempt on a site that appears to be inhabited or at least regularly visited.
Whether you are undertaking a huge construction project or you are simply in the process of building your dream home, when it comes to security it is important to take preventive measures to ensure the security of your site. Construction projects take a lot of time and effort and it can be a real setback when construction sites are vandalised or broken into. With many years experience providing expert security measures for construction sites, vacant properties and more, choose Maltaward when securing your construction site.